When:
October 7, 2023 @ 10:00 am – 12:00 pm
2023-10-07T10:00:00-06:00
2023-10-07T12:00:00-06:00
Where:
Artesia Bulldog Stadium

Contact:
Safer New Mexico Now
505-800-231-6145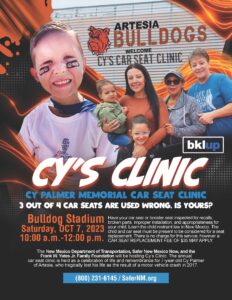 The New Mexico Department of Transportation (NMDOT), Safer New Mexico Now (Safer), and the Frank W. Yates Jr. Family Foundation will host the Cy Palmer Memorial Car Seat Clinic from 10 a.m. to noon on Saturday, October 7, at the Bulldog Stadium, 1600 W. Grand Avenue, in Artesia, NM. This annual car seat clinic is held as a celebration of life and remembrance of Cy Palmer, a 7-year-old who tragically lost his life as the result of a motor vehicle crash on November 15, 2017. Although Palmer was wearing his seat belt, he was not using a booster seat, which ensures the seat belt fits correctly and the passenger is properly restrained in the event of a crash.
During the event, parents and caregivers will work one-on-one with nationally certified child passenger safety technicians. Technicians will spend approximately 30 minutes per seat educating parents on the proper selection, installation, and use of their car and booster seats. Parents and caregivers will also learn important information regarding common errors in car seat safety and will be able to ask questions. If a technician determines a car seat to be recalled, expired, or otherwise unsafe, replacement seats will be available.
To participate in the clinic, parents and caregivers should bring their car seat, car seat manual, vehicle manual, and the child should be present if possible. Car seat inspections are first-come, first-served. For more information, call 505-856-6143.
Donations in memory of Cy Palmer will be accepted during this event, or to donate online, visit http://shop.safernm.org/donation-form. All funds will be utilized to support child passenger safety and car seat awareness.