When:
September 16, 2019 @ 8:00 am – September 27, 2019 @ 5:00 pm
2019-09-16T08:00:00-06:00
2019-09-27T17:00:00-06:00
Where:
Bernalillo County Sheriff's Training Facility
415 Tijeras NW
Albuquerque
NM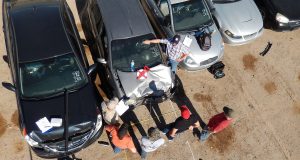 You must register for all three courses in the series to earn credit. 
Building upon the theories and techniques learned in the At-Scene Traffic Crash Investigation course, this class will delve into the advanced concepts of traffic crash investigations. More complex vehicle dynamics like acceleration/deceleration, factor rate and airborne situations will be explored. You will learn to estimate speeds from falls, vaults, and flips and the calculation of kinetic energy and linear momentum. You'll also learn to evaluate vehicle lamps, tires, and damage to help determine vehicle behaviors during collision. Much of the coursework will be spent using acceleration/deceleration factors and perception /reaction times to determine time/distance relationships for colliding vehicles.
REREQUISITE: Students must have completed the At-Scene Traffic Crash Investigation Training.