When:
July 20, 2021 @ 8:00 am – July 23, 2021 @ 5:00 pm
2021-07-20T08:00:00-06:00
2021-07-23T17:00:00-06:00
Where:
Presbyterian Family Medical Center
Santa Fe
NM
Contact:
Safer New Mexico Now
505-800-231-6145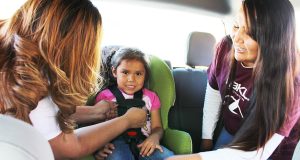 The NMDOT TSD and Safer will host a National Child Passenger Safety (CPS) Certification Training Program July 20 – 23, 2021, at the Presbyterian Family Medical Center in Santa Fe, New Mexico.  The curriculum for this program is developed by the National Highway Traffic Safety Administration (NHTSA) and Safe Kids Worldwide serves as the certifying body.  Following successful completion of this four-day training, attendees will be nationally-certified CPS technicians.
This physically challenging four-day course is intended for individuals who have never been certified as a CPS technician, or for technicians whose certification lapsed two or more years ago.  Attendees should have a sincere interest in CPS and community outreach.  Attendees must be willing and able to participate in NMDOT TSD/Safer-sponsored car seat inspection events to help maintain their skills and support the program.
The course includes classroom instruction and discussion, indoor and outdoor hands-on activities, as well as written quizzes, and skills assessments using car seats and vehicle seat belt systems.  The training culminates in a Car Seat Inspection Clinic for newly-trained technicians to practice their skills.
The attendees' personal vehicle or law enforcement vehicle (preferably one without a cage) will be used for demonstration and installation of car seats throughout the course.  Having a variety of vehicles ensures experience with a wide range of realistic car seat installation scenarios.  Continuing education credit hours may be available for law enforcement and EMS personnel.
The deadline to apply for this class is Wednesday, July 14.  If you are interested in attending, please complete and submit the attached application form.  All applications will be reviewed and applicants will receive an acceptance confirmation letter that includes further details and instructions.  Submission of this application does not guarantee admittance into this class.
The NMDOT TSD sponsors the majority of the cost of this training.  However, each student is required to pay a $125.00 fee by Wednesday, July 14.  This fee will be applied to your certification fee, course manual, and four days of professional instruction.  We expect the class to fill quickly.  You may mail or email your application to Jerremy Manzanares at jmanzanares@safernm.org.
The NMDOT TSD and Safer remain committed to maintaining the safety and wellbeing of our training team and members of our community.  All participants are required to follow
COVID-Safe protocols as determined by the host organization.  Details will be provided to all attendees prior to the course start date. If you have any questions, please contact our office at (505) 856-6143.